How Dental Implants Work — Assonet, MA
Enjoy a Lasting Solution for Tooth Loss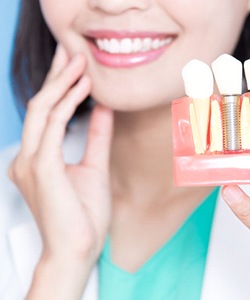 You're ready to invest in a complete, healthy smile using dental implants to treat tooth loss. Although you're excited to get started, it's natural to have some questions and concerns about the treatment. You will need to undergo a multi-phased process, but there's nothing to fear. Dr. Cornetta is now certified to place dental implants, so he'll be by your side from start-to-finish.
3 Reasons to Choose Woodside Dental Care for Dental Implants
Implant placement and restoration in-office.
State-of-the-art technology.
High-quality material for durability and aesthetics.
Initial Dental Implant Consultation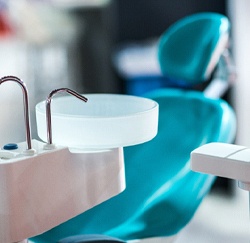 In most cases, if you have good oral and general health, you can choose dental implants to replace your missing teeth; however, you still need a thorough consultation. Your implant dentist, Dr. Cornetta, evaluates your oral and general health to look for any issues that can hinder the success of your new smile, such as infection, decreased bone density, or immune disorders. He'll also discuss your lifestyle habits to ensure you're committed to your oral hygiene and there aren't any factors that can lead to implant failure, like smoking.
He'll review a CT scan of your oral structures to look for any complications that may be brewing beneath the surface. Based on his findings, you may need additional treatments before having your placement surgery, such as tooth extractions, bone grafting, or a sinus lift.
Dental Implant Surgery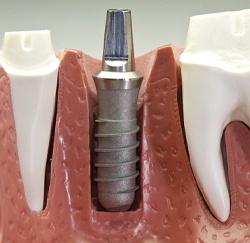 After the foundation is set for your new smile, you're scheduled for your placement procedure. Sedation or anesthesia is used to ensure your comfort as your gum tissue is opened to expose your jawbone. Small holes are drilled into pre-determined locations to insert the posts. Your gum tissue is sutured closed, and the healing process begins.
Dental Implant Osseointegration & Abutment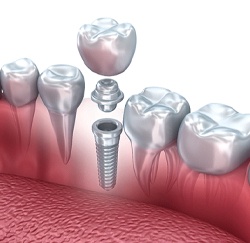 The posts stimulate your jaw to encourage new bone growth. Over the next several weeks, your jawbone will fuse to the posts. This allows them to potentially remain in place forever with the right aftercare while also providing a stable foundation for your restorations.
Before your replacement teeth can be attached, abutments are placed on each post using a minor procedure. These special fixtures connect your restorations to your implant posts to create natural-looking results.
Placement of Dental Implant Restorations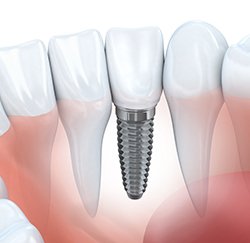 While you're healing from your abutment placement, the dental lab is hard at work creating your restorations from high-quality material. They are carefully crafted to mimic the color, size, and shape of your natural teeth to look natural. After they are finalized, you return to our office to have them attached. Now you can chew, speak, and smile confidently knowing your dental implants look and feel as realistic as possible.
Schedule Your Consultation Today!
If you're ready to enjoy the next best thing to your natural teeth, it's time to see if dental implants are right for you. Although it will require several weeks to replace your missing teeth, it is time well spent to ensure your results last for a lifetime. Contact our office today to schedule your consultation.