All-On-4 Dental Implant Dentures – Assonet, MA
A Same-Day Solution For Your Dentures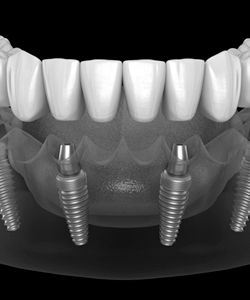 If you've had dentures for quite some time, you may feel frustrated with the way they fit. You may also be concerned that dental implants aren't an option because your jaws have become too weak or thin to support them. Or, if you'll be getting dentures for the first time, you may worry about being without teeth while you heal from your extractions. At Woodside Dental Care, Dr. Cornetta is thrilled to offer an option that works well in both of these cases. With All-On-4, you can get a set of dentures that feel great on the same day you have your implants placed. If you'd like to know more about tooth replacement with All-On-4 detnal implant dentures in our Assonet, MA dental office or want to schedule a consultation with Dr. Cornetta, contact us today!
How Do All-On-4 Dental Implants Work?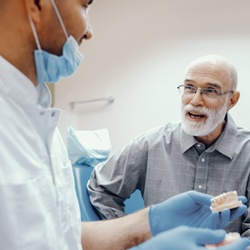 All-On-4 only uses 4 implants on the upper and lower arch to support a full denture. Whereas traditional dental implants need more bone mass in the jaws for support, All-On-4 works around this issue by using smaller implants and strategically placing them in the jaw to maximize support. Since the jawbone is naturally denser towards the front, this is an ideal area to support the implants. Also, 2 implants are angled to increase their contact area with the bone, while the other 2 are placed vertically. After placing the implants, we can typically provide patients with a full denture on the same day.
Am I A Candidate For All-On-4 Dental Implants?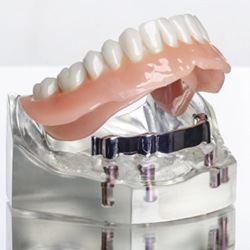 All-On-4 is a great choice for many people, whether they're currently in dentures or will need dentures in the near future. But everyone has different oral health needs, so the best way to determine if you're a good candidate is to schedule a consultation with Dr. Cornetta.
To make sure All-On-4 will work well for you, he'll ask you about your goals before conducting a thorough exam that includes a medical and dental history, visual exam, and detailed images of your jaws and other oral anatomy.
What Are the Benefits of All-On-4 Dental Implants?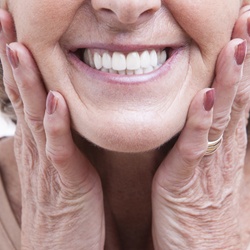 As an implant dentist with years of experience, we often recommend All-On-4 because of the many benefits it offers, including:
Only requires one surgery
Can work well for people who aren't candidates for traditional implants
Provides strength, stability, and greatly improved chewing strength
Enhances both oral health and self-confidence
Usually doesn't require a bone graft beforehand
Maintains the bone mass in your jaws to preserve your facial structure and youthful appearance
All-On-4 VS Traditional Dental Implants
There are several key differences between All-On-4 and traditional implant dentures. The most obvious difference is that All-On-4 only uses 4 implants as opposed to 6-8. Also, the way the 4 implants are placed in the jaw is unique. Traditional implants are simply placed vertically and spaced out evenly over the front and back of the jaw. As mentioned earlier, All-On-4 uses the jawbone towards the front of the mouth and angles 2 of the implants diagonally. The size differs as well, with All-On-4 implants being significantly shorter and smaller than traditional.