Dentures – Assonet, MA
Restore Your Smile's Former Glory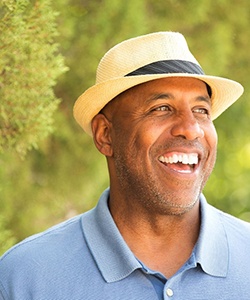 Do your missing teeth make you feel like you're unable to live your life to the fullest? Do you get annoyed that you have to stick to soft foods or that you can't smile with full confidence like you used to? If so, then you might be a good candidate for dentures. These custom-made, high-quality prosthetic teeth can restore your smile's former glory, allowing you to speak, eat, and smile just like you could before you lost any of your pearly whites. If you're missing teeth, keep reading to learn more about dentures from our Assonet, MA dentist, and if you're interested in scheduling a consultation to see if you're a good candidate for dentures, then just give us a call!
Why Choose Woodside Dental Care for Dentures?
Able to Effectively Replace Any Number of Missing Teeth
State-of-the-Art Ceramic Materials Available
Eat and Smile with Complete Confidence
What Are Dentures?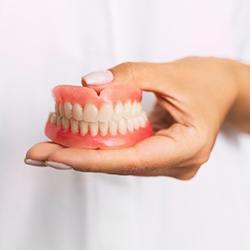 There are two types of conventional dentures: full and partial. When someone starts talking about dentures, you probably picture a set of full dentures. Full dentures are meant to replace an entire arch of missing teeth. They consist of a whole row of prosthetic pearly whites (usually made of lifelike dental ceramic) attached to a gum-colored acrylic base.
Partial dentures, which are sometimes just referred to as partials, are designed to replace only a few missing teeth when part of your natural smile remains. This type of prosthetic utilizes a metal framework. As many artificial teeth as you need are then anchored onto it. Partials usually stay in place with the help of metal brackets or clasps.
Am I a Good Candidate for Dentures?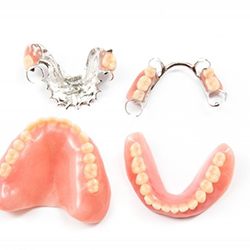 Have you undergone tooth loss to any degree? If so, dentures may be just the solution for your smile. Patients who are missing all of their natural pearly whites may benefit from wearing a set of full dentures, while those with some teeth remaining might be a candidate for a partial, especially if your missing teeth are not consecutive and therefore can't be replaced by a single dental bridge.
Before placing dentures, we generally ask that your gums and any remaining teeth are healthy and infection-free. If we examine your mouth and find any instances of gum disease or tooth decay, those issues must be addressed before you can receive your new teeth.
Benefits of Dentures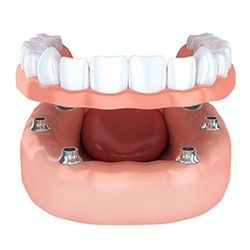 Dentures in Assonet are a wonderful alternative to living your life without teeth. They offer all kinds of benefits, such as:
Letting you smile with confidence again
Boosting your self-esteem
Improving your appearance
Being incredibly comfortable and realistic
Providing support for your facial muscles
Allowing you to eat a diet of various healthy foods
Being removable for easy maintenance
Improving your pronunciation and general speech
Dental Implant-Retained Dentures
Although conventional dentures are a great way to replace missing teeth, they can occasionally slip around when you're eating or speaking, especially if they don't fit correctly. They have also been known to lose their fit, having to be relined every few years and eventually replaced. To counter this, we offer full and partial dentures anchored in place by dental implants.
During the procedure, four to six of these titanium posts are placed at strategic angles throughout your jawbone to provide as much support for a full or partial denture. One great advantage of implant-retained dentures is that you can still receive them even if you have experienced bone loss due to missing teeth. This is because the implants that are placed toward the back of your mouth are done so at a 45-degree angle. While traditional dentures are removable, implant-retained dentures come with the option to be fixed or "permanent," so you can effectively treat them as if they're a natural part of your smile. They also offer incredible stability, meaning they won't lose their fit every few years.
Are you missing teeth in Assonet? Then give us a call today to see whether dentures can solve that problem!