ClearCorrect Clear Braces – Assonet, MA
The Clear Choice for a Straighter Smile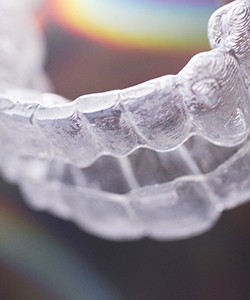 Are you in need of orthodontic treatment? Do you have crooked teeth, a misaligned bite, or gaps that are causing you to be self-conscious about your appearance? If so, the team at Woodside Dental Care can offer ClearCorrect Clear Braces in Assonet, MA to repair and improve your smile's aesthetics and overall health. Far too often, adults leave these problems untreated out of fear that they will be forced to wear metal brackets and wires. Now with ClearCorrect, you no longer need to worry about compromising your daily appearance. These transparent aligners make it possible to receive discreet treatment and fast results. To learn more about ClearCorrect, schedule an appointment with us today!
Why Choose Woodside Dental Care for ClearCorrect Clear Braces?
Faster orthodontic solution than traditional braces
Highly-qualified and trained professional to administer treatment
Flexible solution that allows patients to maintain a regular diet and oral hygiene routine
How Does Treatment with ClearCorrect Clear Braces Work?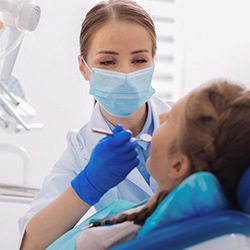 Similar to Invisalign clear aligners, ClearCorrect Clear Braces use a series of plastic trays that are custom-made to fit your smile as it moves through treatment. Using gentle, continuous pressure, your teeth will move in the right direction, putting you one step closer to achieving desired results.
Once Dr. Cornetta examines your smile and recommends ClearCorrect, he will take impressions of your teeth and send them off to a dental lab where technicians will create a specific number of trays. Once they arrive in our dental office, your cosmetic dentist in Assonet will make sure the first set fit properly inside your mouth before offering detailed instructions regarding how long to wear each set every day. Typically, it is recommended that you wear them for at least 20-22 hours a day for 1-2 weeks at a time. Depending on your case, the timeline for treatment can vary.
What Are the Benefits of ClearCorrect Compared to Traditional Braces?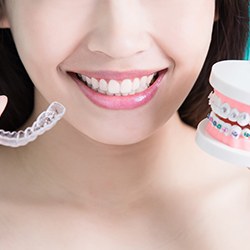 When considering whether you want to receive treatment with ClearCorrect or traditional braces, you must think about what is most important. While many people choose the latter because of cost or familiarity, you may opt for ClearCorrect for the following reasons:
They offer a more subtle, discreet solution that does not compromise your daily appearance
These aligners are a flexible method of treatment that allows you to eat without worrying about food getting stuck between wires. You are also instructed to remove your trays before drinking and cleaning them.
They are easy to clean and maintain, only requiring clear soap, lukewarm water, and a soft-bristled toothbrush.
You receive faster results than the several years you could spend in traditional braces.
There is minimal irritation because no metal brackets or wires are protruding and rubbing against your soft oral tissues.
The trays are created using specialized software that ensures comfortability.
What Are Some Tips for Living with ClearCorrect?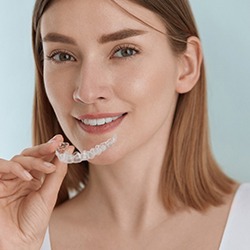 When wearing ClearCorrect clear braces, you will quickly learn how easy it is to live day-to-day with this method of orthodontic treatment. Some tips to help you through the treatment process include:
Remember to remove your trays prior to eating, drinking, or cleaning them
Avoid drinking any beverage (except water) with your aligners in, as this can stain your trays
Limit the amount of dark-colored foods and beverages you consume, or remember to brush your teeth immediately afterward to avoid potential stains from transferring onto your trays
Keep your aligners protected inside a special case to avoid losing or damaging the trays
Always keep your previous set of aligners in case you accidentally lose one and need to return to your old set until a new one is created
Make sure you're wearing your trays for the designated amount of time each day, as this will prevent a delay in treatment
Keep your regularly scheduled visits with Dr. Cornetta to allow him to review your progress and make any necessary adjustments
Understanding the Cost of ClearCorrect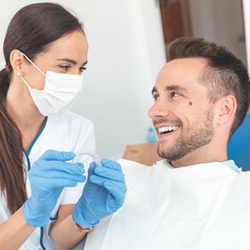 Every smile we see here at Woodside Dental Care is different, which naturally means that no two patients go through the exact same process when straightening their teeth with ClearCorrect braces. Several factors come into play when determining the cost of ClearCorrect in Assonet, such as the specific movements your teeth need to make. We'll review these factors at your consultation, where we can also discuss your financing options, including our in-house dental membership program.
Factors That Affect the Cost of ClearCorrect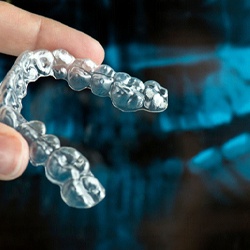 The price of your ClearCorrect treatment will depend on a number of variables, which include:
Complexity of your case – Unsurprisingly, the more severe your orthodontic problems are, the more expensive it will be to move your teeth into their ideal positions. For example, closing a few minor gaps between the teeth will cost less than fixing a major overbite and multiple crooked teeth.
Length of your treatment – You'll wear a series of trays throughout your treatment, each one representing one step closer to your perfect smile. The longer your treatment, the more trays you'll need to pay for.
Your level of compliance – To keep your treatment on track, you'll have to wear your aligner trays for at least 20-22 hours a day and properly care for them. If you don't, then you'll be responsible for the cost of any additional trays.
ClearCorrect vs. Smile Direct Club™: Cost vs. Value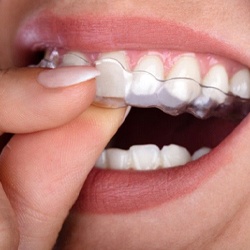 Since clear aligners like ClearCorrect have taken the dental world by storm, many mail-in aligner systems, such as Smile Direct Club™, have arisen and presented people with the option of discreetly straightening their teeth without needing to set foot in a dentist's office. These "do-it-yourself" aligners might seem tempting, especially because they often cost less than ClearCorrect, but they could actually cost you more overall!
DIY clear aligners come with little to no oversight from a dental professional, so there is plenty of room for things to go wrong. For instance, you might accidentally take incorrect impressions that end up moving your teeth in different directions that you'd intended. At that point, you'd need to visit a dentist to have the issue corrected, leading to you spending more money than if you'd chosen a dentist for ClearCorrect from the start. If you want the confidence of a successful, proven treatment, then ClearCorrect is an investment worth making!
Does Dental Insurance Cover ClearCorrect?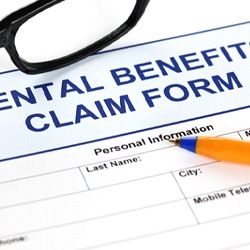 Only some dental insurance plans cover orthodontics, and of those that do, clear aligners like ClearCorrect are often excluded. With that being said, our team is more than happy to look over your plan to make sure you're getting the most out of the benefits you're eligible for. We'll even file your claims on your behalf to make the paperwork process as stress-free as possible for you.
Options for Making ClearCorrect Affordable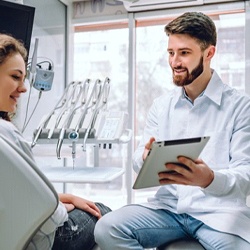 Do you not have dental insurance? Don't worry; we have other ways of helping you afford ClearCorrect. These include:
CareCredit – This third-party financier has helped countless patients split up their treatment costs into smaller monthly installments that fit into most budgets. With a variety of low- to no-interest payment plans to choose from, there's sure to be one that's perfect for you!
Dental membership program – Our Woodside Dental Care Smile Plan is a more inclusive alternative to insurance. For a low monthly or annual fee, you get your basic preventive care covered, and a 15% discount on most other services we provide, including ClearCorrect.
ClearCorrect FAQs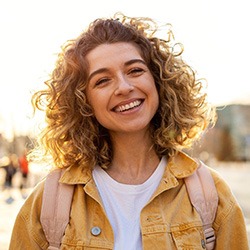 Are you interested in ClearCorrect aligners but still have some unanswered questions stopping you from picking up the phone and scheduling a consultation with our friendly team at Woodside Dental Care? We want you to feel confident and comfortable in all of the dental decisions you make, which is why we've compiled a list of common questions we receive from our patients about this treatment below.
Does wearing ClearCorrect aligners hurt?
ClearCorrect in Assonet is a convenient and discreet way to straighten teeth, but at the end of the day, any orthodontic treatment you receive will come with an adjustment period. Some patients report slight discomfort whenever they switch to the next set of trays in their treatment because of their different fit, but in most cases, it's not anything that ibuprofen can't help. To minimize discomfort, we recommend advancing trays at night before you go to sleep so you can rest through most of the adjustment period.
How do I clean my aligners?
Cleaning your aligners is crucial to maintaining good oral health throughout your treatment. Here are some helpful tips that we provide to patients:
Rinse them with cool water each time before you put them in your mouth.
Store them in a hard protective case whenever you're not wearing them.
Brush your trays with a soft-bristled toothbrush and gentle, clear liquid soap to remove any food particles or saliva at least once a day.
Never wash your trays with hot water.
Do I need to cut out any foods during my ClearCorrect treatment?
One of the best benefits of choosing ClearCorrect over traditional metal braces is you won't have to change your diet as you're undergoing treatment. Instead, you'll just need to remove your aligners before each meal and snack. Remember that you shouldn't chew on anything with your trays in because it could alter their structure or damage them.
Will my insurance cover the cost of ClearCorrect?
In most cases, dental insurance companies won't cover the cost of ClearCorrect aligners. However, that's not the case for every plan, so it's always a good idea to double-check your coverage by contacting your insurance provider directly and asking.
Can I get ClearCorrect aligners if I've had braces before?
It's not uncommon for people to forget to wear their retainer after getting traditional metal braces, resulting in their teeth gradually shifting back into their original positions. If this is your case and you're a good candidate for ClearCorrect, there's nothing stopping you from re-correcting your orthodontic issues with clear aligners this time around!