Dental Implant-Retained Dentures – Assonet, MA
A Full, Comfortable New Smile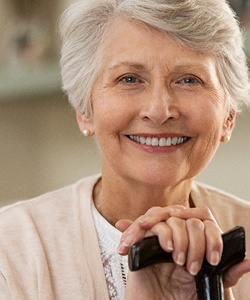 Traditional dentures are the most well-known solution when it comes to eating and speaking after losing most of your teeth. However, by themselves these false teeth won't stop the bone loss that occurs when teeth are gone, and they can slip at embarrassing times. Fortunately, Woodside Dental Care can offer dental implant-retained dentures for our Assonet, MA dentistry patients as a more convenient and comfortable alternative. Suffering from extensive tooth loss? Contact us to schedule a consultation today!
How Do Dental Implant-Retained Dentures Work?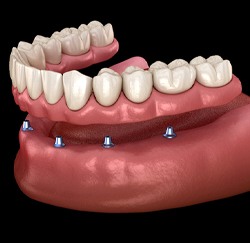 A dental implant is a titanium post that serves as the root for prosthetic teeth. It's placed into the jaw via surgery and gradually fuses with the bone over several months via a process called osseointegration. This allows your new teeth to provide the jaw with stimulation from activities such as biting and chewing, which is necessary to prevent bone loss. As a result, you'll retain height in your jaw and maintain an overall more youthful appearance. You also won't need to worry about your dentures slipping out of place, as the implants will keep them secure in your mouth.
Am I a Candidate for Dental Implant-Retained Dentures?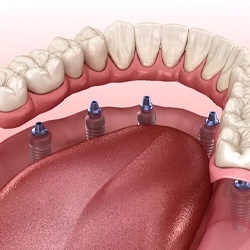 The jawbone needs to be dense enough to successfully support and bond with the dental implants. If your jaw has already deteriorated past a certain point, you'll need to get bone grafts before implants are an option. Similarly, gum disease and other health issues have to be treated beforehand.
Obviously, implant-retained dentures are used specifically in cases where an entire arch needs to be replaced; a few missing teeth will only require crowns or bridges. If there are a few teeth remaining but not enough to be worth salvaging, they can be extracted before you receive dentures.
The Dental Implant-Retained Denture Process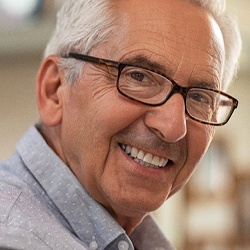 The first step is to have a consultation with your implant dentist at Woodside Dental Care; we'll help you form a plan and schedule any necessary preparatory treatments like bone grafts or periodontal therapy. We'll schedule an implant surgery once we've confirmed that you're a viable candidate and that all oral health issues have been addressed.
Four to six implants will be placed on the appropriate arch. It'll take some time for osseointegration to complete itself, so in the meantime you may receive a temporary denture. After 3 to 6 months, it'll be time for your permanent dentures to be placed.
Benefits of Combining Dentures & Dental Implants
Better Stability and Chewing Power: Dentures that are supported by implants are much more secure in the mouth and won't slip. The added support will also let them provide a more powerful bite that's almost equal to that of natural teeth, letting you eat whatever you want without restriction.
Customizable False Teeth: Implant-supported prosthetics are designed to look natural in the mouth; you'll be able to smile with confidence without worrying that people will notice your false teeth.
Lasts for Decades: Traditional dentures need to be replaced roughly every 10 years, and even then, they'll likely need to be adjusted before then. By contrast, dental implants can last for decades – sometimes even the rest of your life – and since they prevent bone loss, you won't have to worry about your dentures no longer fitting correctly.