TMJ Therapy – Assonet, MA
Stop Chronic Facial
Pain & Headaches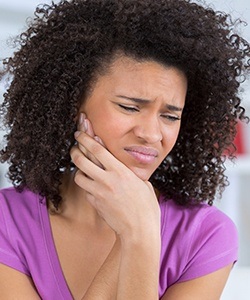 Does your jaw feel stiff all of the time? Do you deal with pounding daily headaches? Has your jaw ever become stuck while opening or closing? All of these symptoms point to a problem with the TMJ or the temporomandibular joints. This is the joint that enables your jaw to move in all directions, and it can sometimes develop dysfunction and pain. Fortunately, our team can help dental patients in Assonet and Freetown who are dealing with these kinds of problems and provide proven treatments to make them go away and stay away. If you're ready to stop dealing with persistent facial pain and headaches, give us a call today for TMJ therapy in Assonet, MA.
Why Choose Woodside Dental Care for TMJ Therapy?
Dental Office with a 30+ year history of serving Assonet
Able to stop teeth grinding & chronic headaches/migraines
Custom-made oral appliances designed for each patient
Diagnosis & Treatment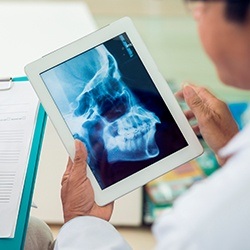 TMJ-related problems can develop due to a wide variety of reasons, but the most common causes tend to be stress, nocturnal teeth grinding (bruxism), injury, arthritis, and an uneven bite. When a patient comes to Woodside Dental Care reporting or exhibiting pain in their TMJ, our team's first goal is to figure out what the problem actually is. Is the joint out of line? Strained? Inflamed? Injured? Once we figure out the root cause, we can then go about recommending the appropriate treatment.
In most cases, TMJ-issues can be handled using conservative and reversible methods. We may recommend that a patient take a few moments out of their day to stretch and strengthen their jaw muscles, or they might just need to temporarily apply cold or heat to their face. For more complex problems, we can design a custom-made mouthpiece specifically designed to restore balance to the joint and relieve pain.
Occlusal Splints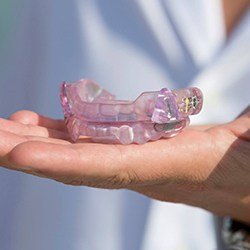 An occlusal splint is a type of therapeutic mouthpiece we can use to help patients dealing with TMJ-pain and headaches. Worn to bed (or in some cases, during the day), it works by slightly adjusting the jaw to take pressure off of the joint itself, allowing the muscles to naturally relax and heal. These splints can also help with another common symptom of TMJ-issues—teeth grinding. They can be designed to place a barrier between the rows of teeth to take pressure off of them, which can save the muscles in the face from strain.
Eventually, the jaw will adapt to this new position, and a patient should be able to go throughout their day symptom-free. After a few months of consistent use, some patients are able to stop wearing the splint altogether, though some may need to keep using it every night in order to experience long-term relief.