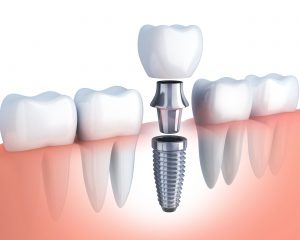 If you're missing teeth, chances are you know how difficult it can make life. You might have trouble chewing some of your favorite foods. You might avoid smiling in front of people because you're self-conscious about gaps between your teeth. Maybe you want to fix your smile, but you can't decide whether implants, bridges, or removable dentures would be best. They all come with their advantages, but the choice that provides the most benefits is dental implants.
What are Dental Implants?
Teeth are made of two parts: the crown, which is the visible top part, and the root, or the part under your gumline. Bridges and removable dentures only replace the crown, but dental implants replace the root as well. This is done by surgically attaching a metal post into the jaw where the missing tooth once was. The post is made of titanium, which will gradually fuse to your jawbone, just like the root of your tooth. For this and many other reasons, dental implants are the best option to replacing missing teeth. Let's examine 4 benefits that dental implants provide:
Stability
Because implants are placed directly into the jawbone, you don't have to worry about them slipping out like removable dentures would. Once they have finished the process of osseointegration, or fully attaching themselves to the bone, they will basically be part of your anatomy. No matter what you're eating, you can rest assured knowing your new teeth will stay in your mouth.
Improved Appearance
After you have healed from the surgery, your implant dentist will attach a porcelain restoration, such as a crown, over the metal post. Crowns are custom-made to match the shade of the surrounding teeth, so your new tooth will blend in seamlessly with the rest of your smile.
Jawbone Health
When you bite or chew, the roots of your tooth stimulate your jawbone and keep it from deteriorating. However, when you're missing a tooth, the jawbone in that area receives no stimulation. This can lead to atrophy of the jawbone. Your face will then develop a sunken and older appearance that dentures and bridges cannot fix. Dental implants are the only tooth replacement option that solves this problem. By attaching themselves to your jawbone, they provide the same stimulation that your tooth root would, preventing bone resorption.
Durability
Bridges and dentures typically must be replaced after a few years, but dental implants are expected to last 30 years or more with proper maintenance. Simply care for them like you would a natural tooth with daily brushing, flossing, and seeing your dentist for checkups at least twice a year.
Although dental implants may be expensive, they are clearly worth the investment. Your oral health, appearance, and self-esteem will improve drastically when you use dental implants to replace your missing teeth. If you want to get started on achieving a better smile, contact your implant dentist today.
About the Author
Dr. Derek Cornetta wants to change the idea that "everyone hates going to the dentist" by fostering relationships with his patients so they feel more like friends. He is passionate about continuing education and is on track to earn his Fellowship in the Academy of General Dentistry, an achievement that only 6% of general dentists accomplish. To learn more about how Dr. Cornetta can help you rebuild your smile, click here or call (508)-644-5200.