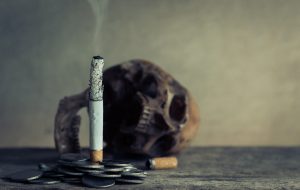 We all know that smoking can seriously harm your lungs. But did you know that smoking can also have adverse effects on your teeth, including dental implants? A recent study in Spain showed that smoking can increase the risk of failure in a dental implant. Let's look more closely at that study and what its results mean.
What Are Dental Implants?
Dental implants are titanium posts that are meant to mimic the structure of a natural tooth root. They are surgically positioned beneath the gumline to replace one or more missing teeth. Your implant dentist can attach a crown or bridge to the top of the implant to make it look and feel exactly like a natural tooth. Once you have recovered from the surgery, no one will even be able to tell it's not your "real" tooth.
What Does Recovery from a Dental Implant Entail?
The material that implants are comprised of, usually titanium, is biocompatible. This means that your body will not reject it, and will in fact absorb the material in a process called "osseointegration."
Derived from the Greek and Latin words for "bone" and "to make whole," osseointegration is the process where dental implants become part of your jaw. It usually takes a few months, and during that crucial period, it's important to take very good care of your oral health. Neglecting to brush or floss, especially in the area around the implant, could cause the integration process to fail. In addition to not brushing or flossing, a recent study has found that smoking can upset the osseointegration process.
What Were the Results of the Study?
Researchers from Spain looked at 66 patients who received dental implants and tracked their progress over 5 years. They found that the implant failure rate was 15.8 percent among smokers, compared to only 1.4 percent in nonsmokers.
The main theory behind this states that smokers have a greater risk of infection following the surgery and are generally slower to heal. Infection in the implant site can interfere with the osseointegration process and lead to implant failure. Additionally, patients must have a healthy jawbone and gum tissue to properly support an implant, and these body parts are damaged during smoking.
If you're missing teeth, implants may be an option for you, but only if you quit smoking. Continuing to smoke could spell disaster as the implant fails and you went through an expensive surgery for no reason. If you're considering dental implants, talk to your dentist about the state of your oral health and whether implants would be right for you.
About the Author
Dr. Derek Cornetta completed his Doctor of Dental Surgery degree at the University of Maryland School of Dentistry, where he was a member in the Gamma Pi Delta Prosthodontic Honors Society. He is dedicated to pursuing continuing education hours and is well on his way to earning a Fellowship with the Academy of General Dentistry. To learn more about how Dr. Cornetta can restore your missing teeth with dental implants, click here or call (508)-644-5200.