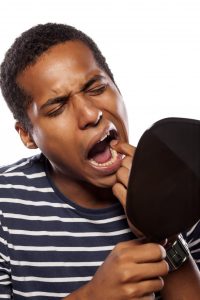 Loose teeth might be cute when you're a kid, but once you're an adult, they should stay firmly rooted. That includes dental implants, the metal posts that replace adult teeth that have already been lost. Once you get them placed, you can usually expect them to last for 30 years or more. However, they're not perfect. Sometimes a dental implant can fail and become loose. Read on to learn more about causes, symptoms, and solutions to this problem.
Why Is Your Dental Implant Loose?
Dental implants can become loose for a variety of reasons, such as:
Bone loss. Part of your jawbone may have shrunk, which can cause the implant to fail to integrate.
Loose crown. Sometimes it may just be the crown that's loose, not the implant underneath. Your dentist might simply need to replace or tighten the crown.
Peri-implantitis. This is a common form of gum disease. If caught early enough, it can be reversed with better oral hygiene, but if not, your dentist may need to remove the implant.
How Can You Tell If Your Dental Implant Is Loose?
If you experience any of the following symptoms, it's a good idea to contact your implant dentist as soon as you can:
Wiggling implant or crown
Pain
Visible bone loss
Discoloration in the area
Bleeding when you touch the site
What Can Your Implant Dentist Do?
Depending on the situation, your dentist may do one of the following:
Clean the area. Your dentist may remove the crown to see what's going on underneath and then clean the area surrounding your implant. From there, the dentist can determine what needs to be done next – either a tightening of the implant screw or a full replacement surgery.
Remove the implant. Whether your implant failed to integrate to your jawbone, or you had an infection in your gums, sometimes removal is the best option to save your oral health. The procedure should be similar to how it was when you first got the implant placed.
What Happens If You Don't Treat Your Loose Dental Implant?
Unfortunately, if you leave a loose implant alone, it doesn't get better. In fact, it can actually worsen to the point of being life-threatening. If you get a gum infection, it could easily spread to other parts of your body, such as your heart, and cause inflammation and disease. You are especially at risk if you have a weaker immune system.
If you think you may have a loose or otherwise problematic dental implant, it's crucial to contact your dentist right away to set up an appointment. It could save your life.
About the Author
At Woodside Dental Care in Assonet, MA, Dr. Derek Cornetta wants to change the idea that "no one likes going to the dentist." He strives to make every patient comfortable no matter the procedure, including dental implant installation. If you think your implant is loose, or you think you might want one to replace your missing tooth, contact Dr. Cornetta at (508)-644-5200.