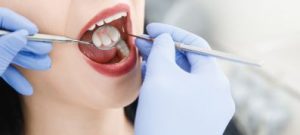 Your dental hygiene and health are important all year-round. But, especially as we go into the sweets-filled holiday season, it's even more essential to take good care of your teeth and gums. And since October is National Dental Hygiene Month, it couldn't be a better time to schedule your dental checkups and teeth cleanings. Learn more below about the many ways these visits benefit your oral health and even your overall quality of life. Some of them may surprise you!
Why Your Dental Health and Hygiene Are So Critical
With a focus on overall health, many people understand the importance of exercising, eating right, and seeing their doctor for yearly checkups. But the health of your mouth is equally important for several reasons. First, everyone needs a full set of healthy teeth to eat comfortably, speak clearly, and smile and laugh with confidence. It may be easy to take those things for granted, but anyone who's experienced tooth loss can attest that it impacts their lives in many ways.
In addition, gum disease affects an estimated 50% of the adult population. And, in recent years, researchers have learned a lot about how it affects your general health and found that it increases your risk of:
Dementia, including Alzheimer's disease
Heart disease
Stroke
Certain cancers
Diabetes
Pregnancy complications
Not to mention that gum disease is the leading cause of tooth loss! Fortunately, seeing a dentist for regular dental checkups and teeth cleanings will keep your mouth healthy while also reducing your risk for all the conditions mentioned above.
Ways To Celebrate Dental Hygiene Month
Here are some easy ways to celebrate National Dental Hygiene Month and improve your oral health at the same time:
Schedule a checkup – You may think of your dental checkups as just a "cavity check," but these visits also include an oral cancer screening, gum exam, oral hygiene tips, and more. They also reduce the amount of major dental work you need and extend the life of your existing dental work.
Improve your oral hygiene routine at home – Implementing small but consistent changes in your daily brushing and flossing habits will prevent cavities and gum problems.
Use extra topical fluoride – Fluoride is a naturally-occurring mineral that strengthens your enamel and prevents tooth decay. Simply using a fluoride mouthwash from the store twice a day is an easy way to incorporate it into your routine.
This month, why not give your teeth and gums a little extra attention? Your smile will not only look better for the holidays, but you'll also be doing something good for yourself as you head into the new year.
About the Author
Dr. Derek Cornetta is a family dentist who is truly passionate about helping his patients achieve good oral health. As a firm believer in the power of preventive care, he encourages everyone to schedule regular checkups and cleanings for better dental health and overall well-being. If you have any questions or want to know more about the benefits of dental checkups, he can be reached via his website.