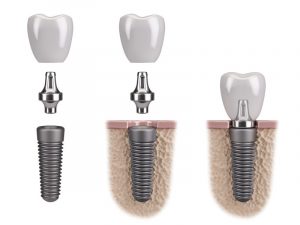 Each of your teeth plays a significant role in maintaining your jawbone density. That's because their roots trigger the production of new bone cells. When you have missing teeth for a prolonged period of time, the natural regeneration process can slow down, which can lead to your other teeth eventually falling out and changes in your facial structure. Thankfully, there is a remedy to this problem: dental implant insertion. As you read further, you'll learn about the connection between bone density and dental implant success.
How a Dental Implant Functions
Just as the roots of a tree dig deep into the ground to sustain the overall structure, so do the roots of your teeth burrow themselves into your underlying jawbone. Thus, the best way to replace a missing tooth is to start from the jawbone level and work up. The only procedure that does this is dental implant insertion.
It involves the following steps:
The surgical insertion of a cylinder-shaped titanium implant into the underlying jawbone
After sufficient healing, the addition of a titanium abutment that acts as an anchor
The placement of the final restoration (dental crown, bridge or set of dentures)
By the time the procedure is done and you've recovered, you'll have a natural-looking and fully functional smile, but that's not all you stand to gain.
How Dental Implants Affect Bone Density
As eluded to earlier, one of the concerns of having prolonged tooth loss is that your existing bone mass can diminish over time. Because a dental implant is attached at the jawbone level, it helps to prevent this from happening by reestablishing the signal that generates continued bone production.
Furthermore, since titanium is a biocompatible material, your jawbone will fuse with the implant through a process called osseointegration. This will further solidify the fixture and ensure a lasting restoration.
Qualifying for a Dental Implant
Before dental implants can be placed, you'll first need to be thoroughly examined by your dentist to make sure you have enough viable jawbone for a successful procedure. He or she will be checking for any oral health issues like gum disease or other problems that could compromise the implant. Once you're cleared, you can move forward with not only restoring your smile, but your life as well.
To learn more about the dental implant procedure and what else you stand to gain by taking this route, contact your local dentist to request a visit. By being proactive, you can prevent any future bone loss and get the help you need.
About the Author
Dr. Derek Cornetta earned his Doctor of Dental Surgery degree from the University of Maryland School of Dentistry. As part of his commitment to excellence, he is on track to earn a Fellowship in the Academy of General Dentistry, an accomplishment that only 6% of general dentists achieve. Dr. Cornetta helps his patients prevent bone loss by placing dental implants at Woodside Dental Care, and he can be reached for more information through his website.