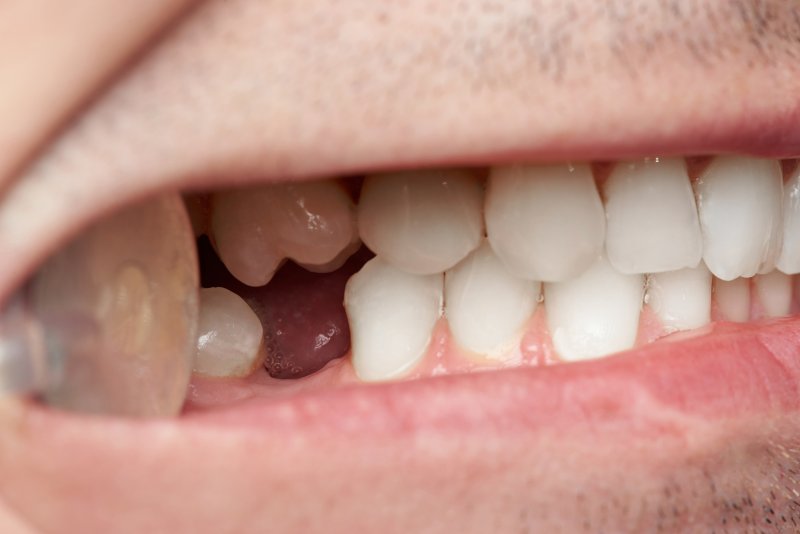 When you are missing a tooth, even if it's in the back, it can be more difficult to complete daily tasks, like eating and speaking clearly. With a variety of different tooth replacement options out there, you don't have to settle for gaps in your smile anymore. Dental implants are particularly popular because they have so many benefits. However, if the tooth is in the back of your mouth, do you really need to replace it? After all, no one can even see it. Continue reading to learn about the inconveniences and risks of not replacing your missing teeth.
Difficulty Eating
If you have a missing tooth towards the back of your mouth, it can be more challenging for you to thoroughly chew your food. You could even end up limiting your food choices. When you have your missing tooth replaced with a dental implant or another tooth replacement option, you can restore much of your natural chewing power, therefore allowing you to enjoy your favorite foods again.
Wearing of Adjacent Teeth
Using fewer teeth to chew your food can cause them to wear down even faster than they normally would. This is because they are doing additional work to make up for the missing tooth. The crown that is placed to replace your teeth is very durable, just like your natural teeth, so it will help to get the job done.
Misalignment
When there is a gap in your smile, the surrounding teeth will naturally try to fill in this open gap. This can cause overcrowding and misalignment. When you fill in this empty space, you can prevent the need for orthodontic work in the future.
Jawbone Loss
If a tooth is missing, your jawbone isn't being stimulated in that spot by regular chewing. In the end, the body will begin to reabsorb the bone, causing the structure of your face to change over time. This means sunken-in cheeks and wrinkled lips, making you look much older than you actually are. Dental implants are the only tooth replacement option that preserves the integrity of the jawbone because they replace the root of the missing tooth.
TMJ Disorder
When the structure of your mouth changes, you are more likely to develop temporomandibular joint dysfunction (TMD). This disorder can cause jaw pain that leads to chronic headaches. When you replace a missing tooth with a dental implant in the back of the mouth, you are preventing the structure of the mouth from changing and reducing your risk of this condition.
Others may not notice if you have a gap in the back of your mouth, but you will pay the price over time. By scheduling a consultation with your dentist, you can create a plan to restore your smile!
About the Author
Dr. Derek Cornetta earned his Doctor of Dental Surgery degree from the University of Maryland School of Dentistry and is committed to continuing education to keep his knowledge and skills sharp. Currently, he is a Fellow of the Academy of General Dentistry and a proud member of the Massachusetts Dental Society, Academy of General Dentistry, and American Dental Association. For more information or to schedule an appointment at his office in Assonet, visit his website or call (508) 644-5200.