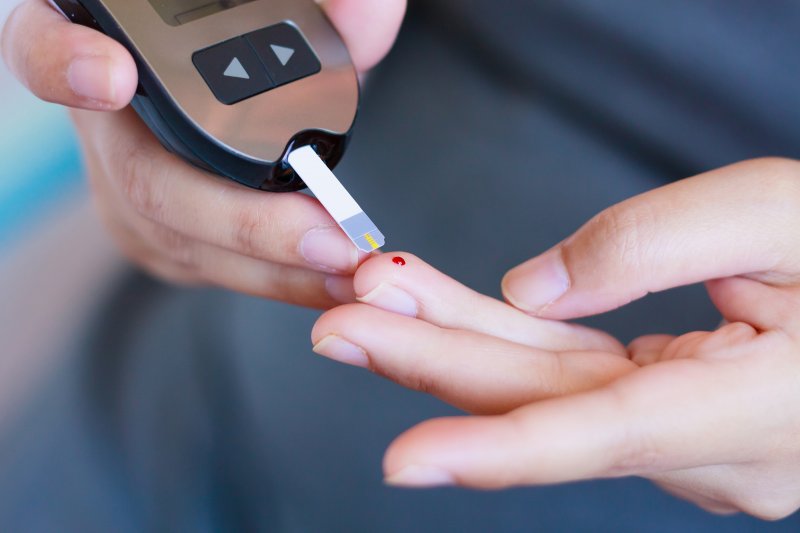 Tooth loss is a common issue that people face all throughout the country. Missing one or more teeth can make it much more difficult to complete daily tasks, like eating, speaking, and smiling. The good news is that just because you have lost teeth doesn't mean that you need to go the rest of your life with gaps in your smile. Dental implants are a preferred tooth replacement option due to their numerous benefits, but are they safe for patients who have diabetes? Here's what you need to know.
Can Diabetics Get Dental Implants?
Having diabetes doesn't automatically disqualify you from getting dental implants, but you should know that there are additional risks associated with the procedure. People with diabetes are higher risk for dental implant failure for a few different reasons. If you have diabetes, they will take longer to heal from the surgury, and they are more prone to infections. Since diabetics are more susceptible to infection, this increases the risk of dental implant failure. Diabetes is also able to affect the osseointegration process where the implant fuses with the jawbone. Since it takes longer, it is more likely that complications could develop.
How Can You Increase Your Chance of Dental Implant Success?
The good news is that there are steps you can take as a diabetic to increase your probability of dental implant success. Here are some of the most important:
Get Your Diabetes Under Control: Dental implant patients with controlled diabetes have comparable success rates to nondiabetic patients. Work with your doctor to get your diabetes under control to significantly improve your chances of having successful implants.
Maintain Good Oral Health: Diabetic patients are more prone to oral health issues, like tooth decay, dry mouth, and periodontal disease. Brush your teeth twice and floss once each day to keep your smile in good shape.
Treat Periodontal Disease: You won't be able to move forward in the dental implant process if you have periodontal disease. It's important that this infection of the gum tissue is treated ahead of time.
Attend Regular Checkups: Dental checkups are important for everyone, but especially those who have diabetes. Your hygienist will clean your smile and your dentist will check for oral health issues.
If you have diabetes, this doesn't always mean that dental implants are out of the question. Work with your doctor and dentist so you can get on a path to restore your smile!
About the Author
Dr. Derek Cornetta earned his Doctor of Dental Surgery degree from the University of Maryland School of Dentistry and is committed to continuing education to keep his knowledge and skills sharp. Currently, he is a member of the American Dental Association, Massachusetts Dental Society, and Academy of General Dentistry. To learn more about dental implants or to schedule a consultation, visit his website or call (508) 644-5200.